2019 Summer Calendar Preview
This past winter was a blast (and an icy one!) Thanks to all of our friends and visitors at David Street Station, braving the cold has never been so much fun. And while we loved the winter activities, we cannot wait for the nice weather and the 2019 summer events at David Street Station.
In fact, we are so excited for the Summer Series events that we want to share them now! Much like last year, we will have so many events that you, your family, and your friends could practically live at David Street Station!
Hilltop Bank Summer Concert Series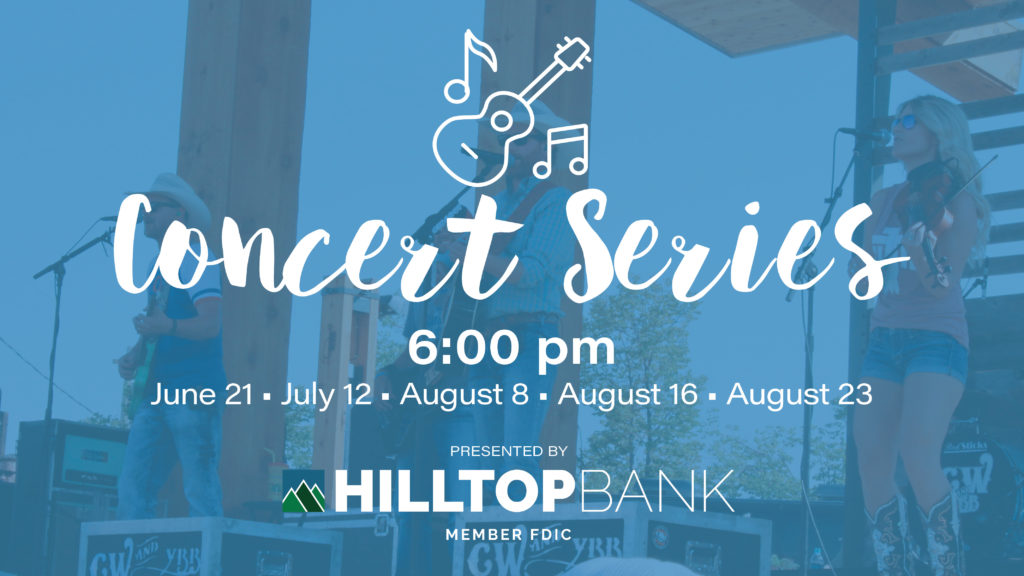 Back by popular demand, we have a great line up of bands ready to get you on your feet and singing along. The Summer Concert series is generously sponsored by Hilltop Bank again this year and will offer performances by the popular Jake Maurer Band, the Two Tracks, Jalan Crossland, Few Miles South, Canyon Kids, and Chancey Williams & the Younger Brothers Band.
This year's Cinema at the Station will show favorite films Moana, Space Jam, How to Train your Dragon, Trolls, The Secret life of Pets, and Hotel Transylvania. Get there early to get comfy before the show starts. Shows will begin at 7 p.m. this year.
Lunch on the Lawn Sponsored by Casper College
Lunch on the Lawn sponsored by Casper College will be held Mondays from 12-1 p.m. and will feature youth activities including story time with the Natrona County Library BookMobile, crafts with Artisan Alley and performances from local music and dance troupes. Grab and Go Gourmet will be on site selling $6 and $10 lunch options. You can also pick up lunch from your favorite downtown restaurant or bring a sack lunch and snag a spot on the lawn!
Food for Thought Summer Markets Sponsored by WCDA
Food for Thought Summer Markets sponsored by WCDA will be each week on Tuesdays from 5-8 p.m. You'll find a wide variety of vendors selling their locally handmade, homemade and homegrown goods to meet all your wants and needs.
Wellness Wednesdays in Partnership with the Casper Family YMCA
New to the Summer Series this year are Wellness Wednesdays in partnership with the Casper Family YMCA. You can find weekly fitness classes at 6 a.m. and on select Wednesdays at 1 p.m. and 6 p.m.
The laid-back Family Game Night returns on Wednesday evenings from 6-8 p.m. opposite of Wellness Wednesdays to active with your kids and learn a new sport along the way! The whole family will have a blast learning basketball, golf, and more! giant yard games and family fun on your own schedule.
The Casper Art Walk, UW Pep Rally, Balloon Fest, and the 5150' Festival return to the Station this summer while new events like the Blues and Jazz Festival and Fly Fish Casper will round out the summer. There is something for everyone, and you won't want to miss it!
For specific event times and dates, visit www.davidstreetstation.com/events.
We'll see you on June 1st for the Summer Kickoff and Hilltop Bank Splash Pad season opening. It will be a summer you won't forget #WhereCasperComesTogether!
---